You have plenty of options if you're looking for a commercial airport near Virginia. The Old Dominion state alone has 66 public use airports for regional and international travel. However, five major airports spread throughout the state will make traveling to Virginia cities and bordering states convenient.
Below are details about the five international airports in Virginia.
Richmond International Airport
Richmond Internation Airport is not in Virginia's state capital despite its name. Instead, the airport is in Sandston, VA, about a 20-minute drive from the city.
It's the closest airport to Richmond and one of the busiest hubs in central Virginia. Richmond International receives about three million travelers yearly.
The airport has plenty of facilities and services to accommodate its many travelers. For instance, you could find airport convenience stores, banks, restaurants, and gift shops near the gates. If you're on a business trip, you can also enjoy the airport's lounges, free Wi-Fi, and teleconferencing facilities.
This modern airport offers convenient travel to downtown Richmond, about a 15-minute drive away. However, Richmond International offers limited nonstop service, so the hub can become crowded quickly.
Ronald Reagan Washington National Airport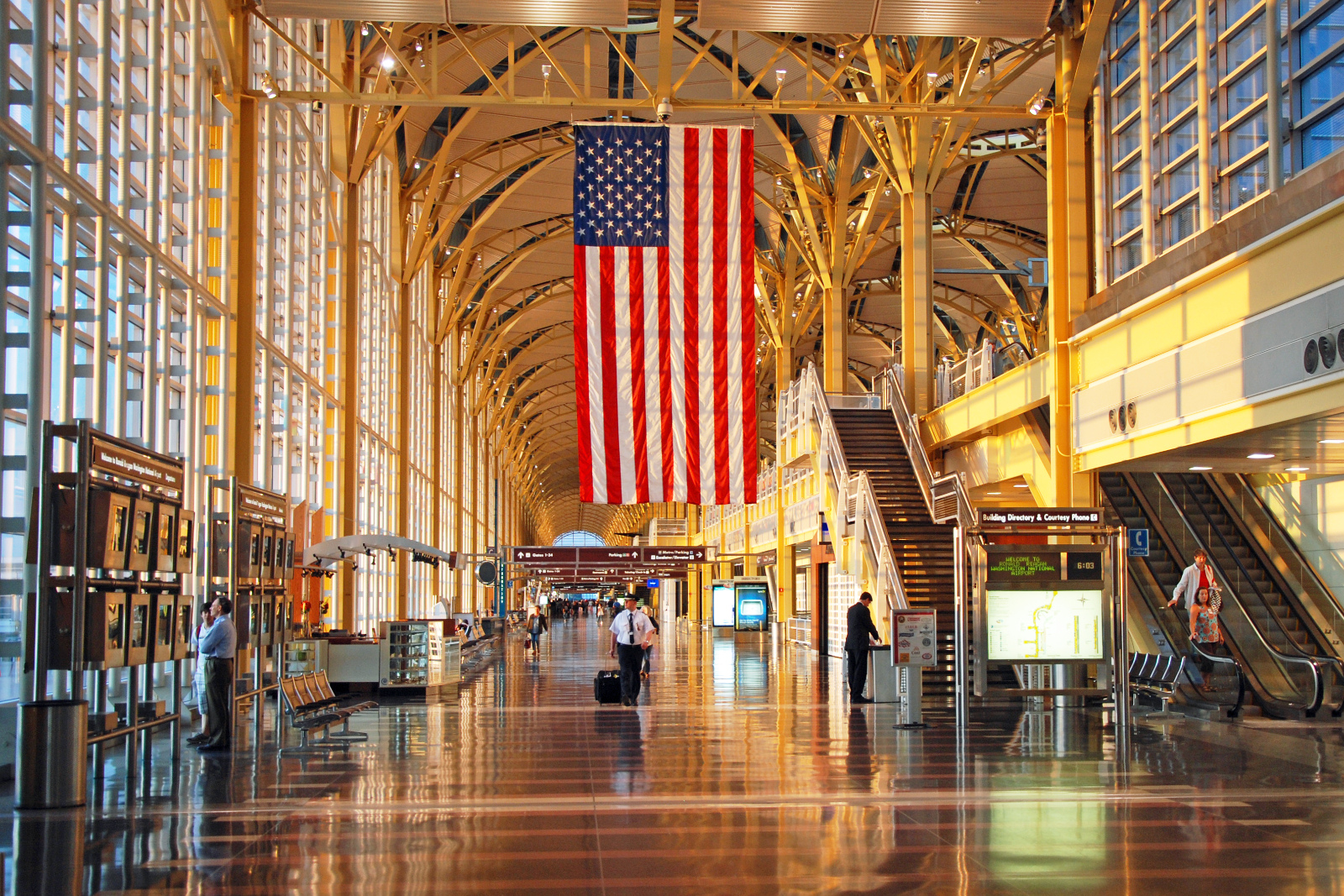 Reagan Washington National Airport is the go-to public airport in Arlington County, VA. It's also the closest airport serving Washington, DC, which is the home city of US Airways. Reagan Washington National includes three massive terminals and hourly shuttle services from the US Airways and Delta Airlines sections.
A potential drawback of flying in or out of this airport is its short runways. The airport can only host limited long-haul routes without lengthy runways due to the larger plane sizes. On the positive side, Reagan Washington National Airport is only about six minutes away from the National Mall, without traffic.
The airport's interior is impressive despite its short runways. Travelers will find plenty of lounges, shops, and eateries to help pass the time.
Norfolk International Airport
Norfolk International is the primary airport serving the Hampton Roads area, which includes Norfolk, Chesapeake, Hampton, Williamsburg, Suffolk, Virginia Beach, and several other cities in Virginia and northeastern North Carolina. Run by the Norfolk Airport Authority, this airport offers international flights from major airlines, such as Southwest, Delta, and American.
The airport serves seven airlines with nonstop flights to major cities like New York, Chicago, and San Diego. Though the airport usually isn't crowded, it offers limited service and no public transportation. However, travelers can reach downtown Norfolk with a 15-minute car ride.
When traveling through Norfolk International Airport has full-service HMS Host restaurants, grab-and-go shops, and water bottle fill stations. You can also pick up a new book or gift at the airport's Hudson news and gift shops.
Washington Dulles International Airport
The busiest and most crowded airport near Virginia is Washington Dulles International Airport. This airport serves about 23 million annual travelers in Dulles, VA. The airport's busyness is due to it being the primary hub for the Washington-Baltimore-Northern Virginia region, but it mainly serves the DC area.
As one of the busiest international airports in the country, Washington Dulles has one primary and two midfield terminals. It offers direct and connecting flights to several destinations in the country and abroad. Though many airlines fly out of Washington Dulles International Airport, it is a hub for United Airlines.
Traveling through this airport is convenient because it offers daily flights to many locations. However, it's about a 35-minute drive to the National Mall from the airport and has no direct train line to Washington, DC.
Newport News/Williamsburg International Airport
Like Norfolk International Airport, Newport News/Williamsburg International Airport serves Virginia's Hampton Roads region. The Peninsula Airport Commission manages this airport, which is the primary hub for AirTrain Airways. However, you can also catch US Airways, Delta, and Frontier flights from this location.
Located in uptown Newport News, Newport News/Williamsburg International only has limited flights. However, it seldom has crowds and is suitable for traveling to destinations on the Virginia Peninsula. If you want nonstop flights to Philadelphia or Charlotte, North Carolina, from this airport, your only option is to book a flight with American Airlines.
When you need reliable transportation to or from an airport near Virginia, contact Williamsburg Chauffeur Service. Our courteous and professional team offers world-class airport transfer services at Virginia's international airports. We strive to make travels to and from airports safe, reliable, and timely using our fleet of luxury late-model vehicles.
Contact our team at 757-927-5049 to request ground transportation at any airport near Virginia.